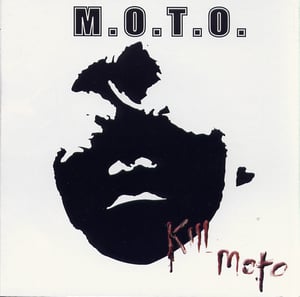 $

10.00
It's never easy standing at the M.O.T.O. merch table after a show and having someone ask which is the best MOTO record to buy. It's an impossible question. They're all worth getting.
Kill Moto makes a good start. It has a nice blend of full-on wall of sound 4 piece band M.O.T.O. and lets bang on some pots and pans and record in the kitchen weirdness that catagorize some of M.O.T.O.'s earlier recordings.
So yeah - BUY This one.
Here's some MOTOlove from the All Music Guide:
Since 1988 M.O.T.O has mined an area of punk music that doesn't lend itself easily to vast commercial success. Think Ramones with more and better jokes. Of course, punk music is more known for its rebellion and political stances than its comedy. Sophomoric humor like "Crystallize My Penis" (From Single File), "It Tastes Just Like A Milkshake" (from E Pluribus MOTO), or "Drunk On The Nectar of You" (from This Corpse is a Warning) just might not fly with some of the more humorless in the punk crowd. And certainly not with commercial radio. This is not to say that you won't find social commentary on a M.O.T.O. album. It just flies by so fast that you might miss it if you blink. "Who cares about the starving people that you see in the street each day," belts out Paul Caporino, the band's founder, on Kill M.O.T.O.s second track. "I wanna dance, dance, dance, dance to the radio. Turn the radio on." The bass-driven song proceeds at a dizzying pace for just over 2 minutes (and that includes one of the most extended guitar breaks in the M.O.T.O. canon) until you realize that that is all the lyrics you're going to get. Short and to the point. And if you think that it's the dancing that Caporino really cares about, M.O.T.O. returns a few songs later with "Choking On Your Insides" (Gagging On The Edge of The World).
Rabid M.O.T.O fans (a loyal and surprisingly widespread bunch) who appreciate the jokes won't be disappointed in Kill M.O.T.O. though. The humor remains intact. There's the musically hilarious "Got To Get Away From The Cops", done as a sloppy skiffle tune. And the best bad pun I've heard in eons on "Where's My Money At?" "I'm not patient. I don't need no doctor."