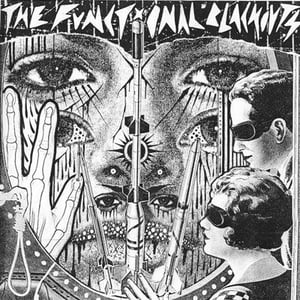 $

11.99
This fantastic long player (recorded over a sunny spring weekend back in 2003) went on to become one of THE records of its time
The Blackouts were a complete mess live, were banned from just about every club in town, and broke up on their first west coast tour. Fortunately for you this record captures their drunken Bukowskyish genius and swagger perfectly as they rip their way through to it's show stopping conclusion.
The LP achieved justifiably high critical acclaim from all over - most notably the late John Peel showcased the band on BBC's Radio One. After the breakup of the line-iup that did this record The FxBx's remained for one more album on Criminal IQ and then became the Daily Void.
Here you have it, Filth, Nervous, Blackout, Dirt, Costello and one hell of an LP. The Functional Blackouts.
CD comes with original 8 panel fold out poster art.
Here's some words from the enlightened Blank Generation:
If the word punk still means anything, these guys are it, and listening to them claw, scratch, and stumble their way through twelve tracks that run the gamut from amazing to annoying will give you a good idea of what more good bands should be doing, and what some of the shittier and more over-hyped "art-damaged" groups are doing wrong. Fuck convention, fuck art-punk, fuck techno, fuck garage rock, and fuck you. - blankgeneration.com