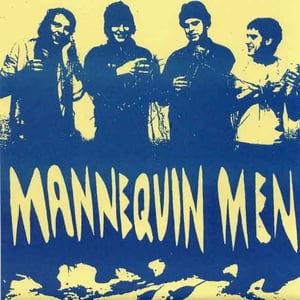 $

4.99
The MANNEQUIN MEN stand alone in the Chicago scene as an anomaly unto themselves - there are nods to bands like TELEVISION, WIRE, and the WIPERS but the MANNEQUIN MEN remain musically unique and expansive, lyrically dark and twisted, with one foot firmly planted in the same pop tinged well as the PONYS and the other deep in the garage swamp of pioneers of progress the BLACK LIPS.
This is tres cool shagging music that you shouldn't be missing out on. 500 copies pressed on black vinyl
REVIEW FROM DUSTED
Chicago kids mixing and matching a few highly recommended modes of operation, namely Nirvana-esque symbolic ranting crossed up with a loose, garagey-psych backbeat. It really works for them, because they have a shambling, easygoing pace that could have suited a lot of the post-Strokes failures quite well. "Private School" is the pick hit, somehow reminding me of the same sort of wobble that Buffy Sainte-Marie's "He's a Keeper of the Fire" does, while "Sewers" rolls around in balladic murk for a bit too long. "Private School" is so good, however, that you won't miss the flip. Actually played this one twice, and I'm on a deadline. Good stuff, wanna hear more.