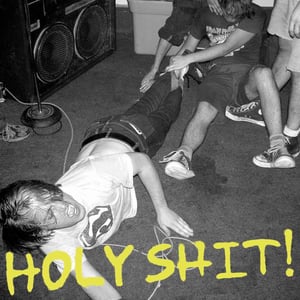 $

9.99
BACK IN PRINT! 500 Copies pink cover
Like their Detroit brethren the Terrible Twos these guys write some of the most original and explosive music you can get your ears around today. It's hard, fast, crazed, and careening hardcore punk played at supersonic speed teetering here and there at the brink of total destruction before crashing to a sudden abrupt knee-in-the-bollocks end then the whole process starts again.
Killer shit!
From Collective Zine.co.uk
When you call your band Holy Shit, your record sides are labelled "Fuckin' A" and "B-Yotch", and you make me screw around with my deck just to get it your album to play on 45RPM, your band better be "off the hook" or I will be pretty disgusted. Holy Shit are, thankfully, "off the hook", and this album is the least compromising, most belligerent slice of ugly that I have had the pleasure of hearing since the Functional Blackouts album (also on Criminal IQ, this label knows what's up).
Holy Shit kick off from the word go, this is hardcore punk played with no thought for anything whatsoever. It is dirty, it is hopeless, it is screwball. Hardcore punk is so often played by the book, in the fashion that some band played it once upon a time. Played straight, played with mock fury or whatever other emotion is required to attract the required audience who will consume 1000 copies of the 7" and move on to the next band that MRR has deemed worthy of your £3. Holy Shit dispense with all that baggage, and careen through this LP, in a seemingly desperate attempt to simply get to the end. They succeed, but barely. This is all fast, all the time, tracks fly by in the blink of an eye, it is impossible to differentiate where one starts, one ends, one coughs of blood, and one is stabbed in the eye with a drumstick. Immense. These guys and Homostupids have proven to me that just because I sometimes feel like an old fart, that doesn't mean I can't still enjoy this junk.
High praise to the band that is willing to play hardcore punk in all kinds of wrong ways in 2007, for you are a shining beacon amidst the horrific waste of vinyl that this genre produces.