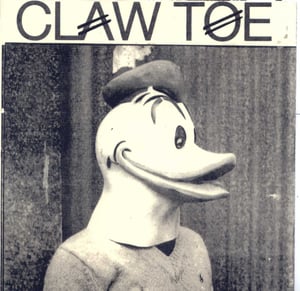 $

10.00
Claw Toe are back with a brand new 12" EP!! Primitive and rythmic, Claw Toe sound like arty Troggs fans armed with a synthesizer. Mixing up a few styles of early punk and post-punk ala Joy Division with a rawer dirtier sound Claw Toe sound unique and pretty fucking bombastic. The Boris Karloff style vocal delivery combines with subtle humour and stylish "noir" moments that fit nicely with their druggy throb.
Recommended if you like - The Stranglers, Tall Boys, Alice Cooper, Killing Joke, Metal Urbain, Ministry, Bauhaus, Chrome, Stooges, Toy Dolls.
REVIEWS
2012 cracking EP from local lads, CLAW TOE. Starts out tense & grungey, dips its wick in some circuit bending synthetic fodderstomp, & ends up riding roughshod over glam/psyche territory...and that's just side one! Flip it over for the creepy-as-hell, "Stalker". This is some dark, death-dealing post-punk/proto-punk industrial racket for those of you into KILLING JOKE, MINISTRY, WIRE, PIL, and early WARSAW. On CRIMINAL IQ &... H I G H L Y R E C O M M E N D E D !!! - Reckless Records
If you suddenly awoke to find yourself bound and gagged in a basement with a guy wearing a butcher's apron, most likely Claw Toe would be playing in the background. The band's new self-titled EP (Criminal IQ) is what a peeping tom with ear buds would be cranking in the bushes. This is coked-up Harvey Keitel in Bad Lieutenant moaning naked in the mirror. This is football hooligans in skull masks ready to push 20 opposing fans down an escalator and to the hospital.
The dark, creeping "death punk" of Claw Toe exists in a space in our brains we all have- the passing evil thoughts and uncomfortable realities of daily reality. That said, the wonderful thing about this band is that there is also a subtle subtext of humor. This makes songs like "Geriatric Stalker" and the slice-of-life brutish honesty of "Self-Help For The Hopeless" so engaging. As one is drawn into the lo-fi basement murk of Claw Toe, you realize each tune is a simple, masterful pop song in its' own right.
Songwriter and singer Darius Hurley started the project as a home four track venture and on the new EP is backed on most songs by a smoking full band (members of Chicago's Red Denizen.) The Toe's sound is made up of chunky, wailing punk guitar, dark synths, distorted electronics and Hurley's deep Cockney (Darius is a U.K. transplant) vocals that move from a drugged groan to a panic-stricken howl, to whatever the hell he's doing on "The Drugs Song."
This 6 song howl from the depths is out on Criminal IQ Records, Darius' long-running record label. A tip of the hat is given to former label mates and early naughts Chicago punk destructors, The Functional Blackouts with a blown out, rusty razor take on the F.B.'s classic "Kamikaze".
Few groups are mining a sound like Claw Toe and you enter Hurley and Co.'s world, you're hooked like a cow slab in a walk-in freezer. - Lauries Planet of Sound